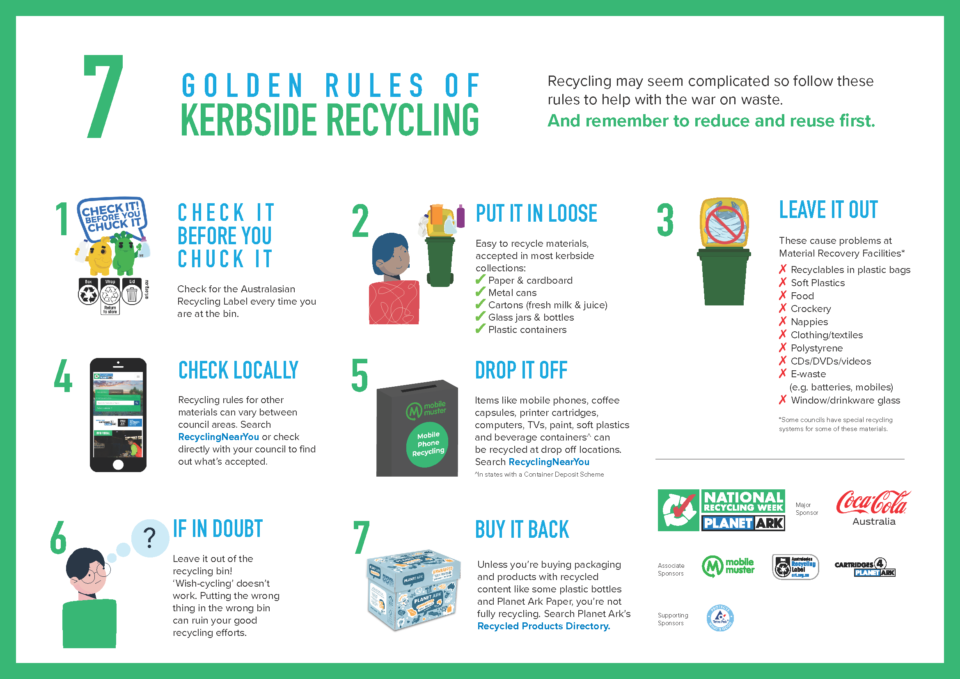 To wrap up ♻️National Recycling Week, here's seven golden rules for kerbside recycling - do you know them all? 🙏
1. Check it before you chuck it - check for the Australasian Recycling Label every time you are at the bin

2. Put it in loose - don't put recyclables in plastic bags, empty them out loose in your kerbside wheelie bin
3. Leave these out - these items cause problems at the MRF* : soft plastic, food, crockery, nappies, clothing, textiles, CDs/DVDs/videos, eWaste, window/drinkware glass
4. Check locally - If it doesn't go in the kerbside bin, look for local recycling drop off locations on our waste-map: https://wastestartswithu.com.au/waste-map
5. Drop it off - mobile phones, batteries and electrical/electronic (eWaste) all have well-established and successful recycling programs for resource recovery
6. If in doubt, leave it out - if it's not on the list of accepted kerbside recyclables, don't 'wish-cycle' it - contamination can ruin a lot of good recyclables.
7. Buy it back - by buying items with recycled content, we support and encourage businesses to use recycled products in their manufacturing and keep resources circulating.
😐BIG PICTURE: As a municipality, and a community, we all need to get better at recycling, avoid 'wish-cycling' (golden rule no.6!) and reduce what we waste. Added bonus - this saves money too!.
By recycling right👍, you also help extend the life of landfills and stop valuable resources going to waste.
🙋‍♀‍Remember: If it doesn't go in the kerbside recycling bin, check out your local recycling drop off locations on our waste-map: https://wastestartswithu.com.au/waste-map
Any questions, please call our Customer Service team 🙂 6216 6800.
#NationalRecyclingWeek #circulareconomy #wastestartswithu
Planet Ark